Alumni in Action: Kathryn Wright, UNC '19
Wednesday February 17, 2021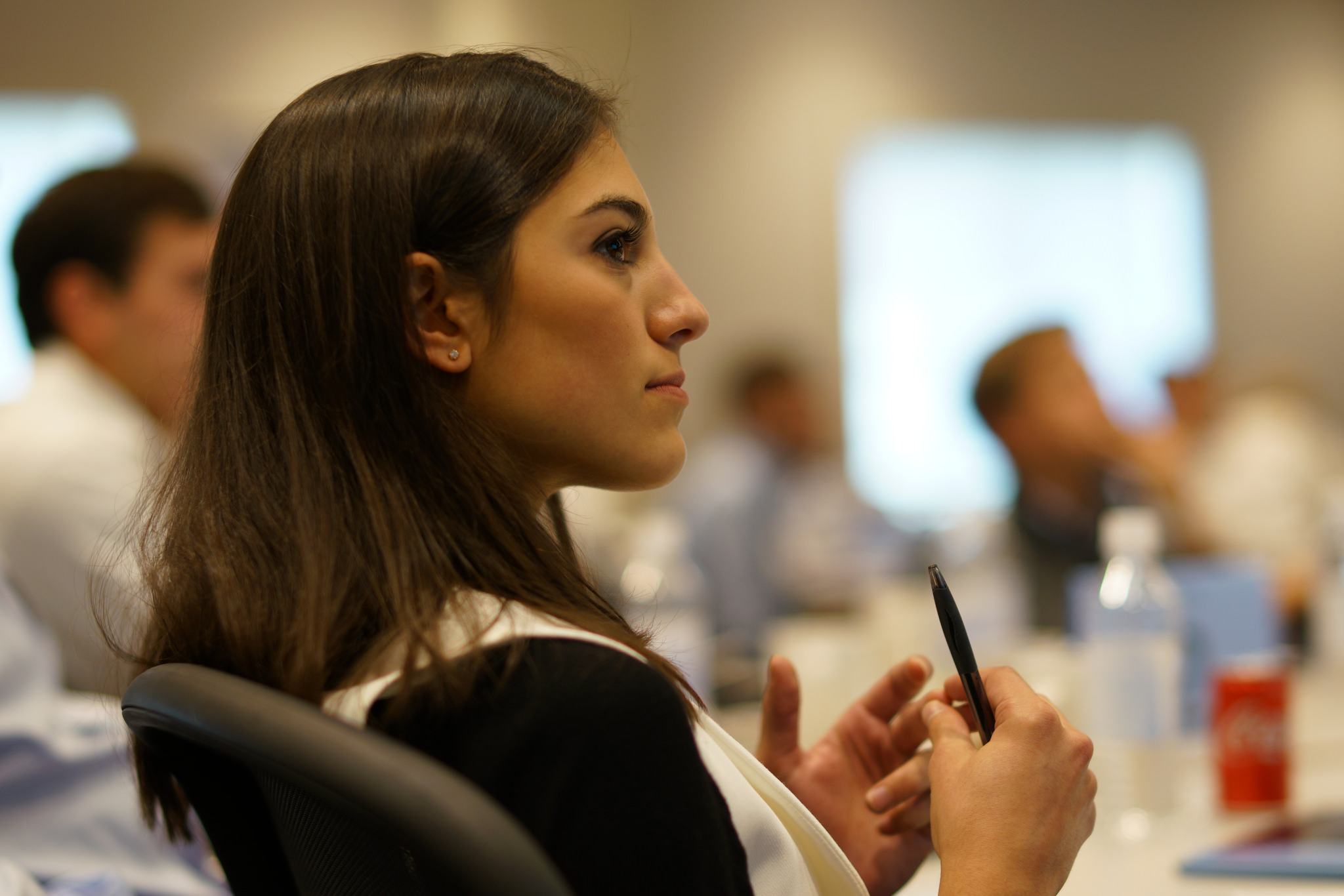 Our Assistant Director of Student Engagement, Lauren Willets, recently had a Zoom call with Kathryn Wright to hear what she has been up to since graduation. Kathryn is a 2019 BSBA graduate and is a Portfolio Management Associate at Bell Partners in Raleigh, North Carolina. Below you will find why Kathryn originally got involved with the Family Enterprise Center, and why she is glad that she did two years post-graduation.
Tell us about your family business.
I am 4th generation to Kannon's Clothing, a Women's and Men's clothing store located in Cameron Village in Raleigh, NC. Family owned and operated since 1916, "the store" as we commonly refer to it, was started in Wendell, NC by my great grandfather Isaac Cannon, who came to this country from Lebanon about 10 years prior in 1905. He built an unwavering reputation that centered around high quality goods, higher quality customer service, and treating all customers like they were part of the Kannon family. This reputation and the rooted core values it encompassed were gracefully carried on by my grandmother, who owned and operated the store after her father Isaac. To this day, I am consistently in awe of the courage it took for her, a Lebanese woman without a college degree in a small, rural NC town, to run a successful business at a time when a woman's worth and work were siloed to the domestic realm. Her bravura and business acumen were passed onto her children, my mother included, who now run the store in its current location in Raleigh. While they have taken successful risks to grow the business, facing their share of challenges along the way, they have held steadfast to the reputation and familial values that were preached and practiced by Isaac Kannon over 100 years ago. These values and service, or love for neighbor and self as I would describe it, that customers experience when they walk in the store are the same values that were taught in mine and my cousins' family homes. While I am not professionally involved with the store, it is fallacious to say that the family business does not have an impact on nearly every inch of who I am today, how I carry out my relationships, my career, and my integrity.
 How were you involved with the Family Enterprise Center as an undergraduate?
I came into Kenan-Flagler like most 19 year-olds: not knowing much about anything. However, I did know something about family businesses and figured that was a great place to start. Cooper Biersach and Lauren Willets welcomed me into the Women in Family Business group of MBAs, undergrads, and alumni. This group gathered for dinner once a quarter to discuss our experiences in our own family businesses. It was eye opening to realize that the nuances and uniqueness of my experiences were actually shared among the other women. No matter the nature, industry, size, or legacy of the business, we all had seen the glories and struggles of succession planning, working with the ones you love most, separating business discussion from the dinner table, etc. I loved these discussions so much that I recruited other women in the KFBS undergraduate program to come join the dinner events. I recently ran into one skiing and we both shared how much we miss these vibrant, emotional, and often times hilarious discussions!
During my time at UNC, I also introduced my family business to the faculty and resources the FEC had to offer. In 2018 we were so lucky to receive the Luck Fellowship and be a part of that year's Family Business Forum – The Family Governance Journey, which I attended with my two older brothers and father. To this day we still use, talk about, and hold each other accountable to the lessons/discussions/goals cultivated during the Forum.
Since graduating from Kenan-Flagler, what has been your career path?
While in undergrad, I realized that the family business was not the best fit for my personality, skill set, and industry interests. I set my sights on the commercial real estate investments industry and have found a great career and passion. After KFBS, I took an analyst position with Eastdil Secured in Atlanta, where I underwrote equity sales transactions for various property types across the Southeast. As of January, I have joined Bell Partners as a Portfolio Management Associate, where I work for and alongside incredible people, many of whom are BSBA or MBA Kenan-Flagler Business School alumni.
You now work for another family business. What has that been like?
There is simply something incredible about working for a family business: the feeling of being valued, having team members to lean on, feeling accepted for who you are in the workplace, and sharing in the group success of the team. Even more incredible, is how Bell Partners successfully manages to cultivate and preserve the same small family feelings within a team of over 1,500 employees. While I am still new with the company, it has been a joy and honestly a comfort to experience this culture first hand every day.
Do you have any insight or advice for students who are from family businesses?
No matter your current involvement or interest in your family business, whether you are gearing up to take over or are still figuring out the waters, I would recommend getting involved with the Family Enterprise Center! My experience with the FEC gave me the tools and relationships to help me navigate my future while giving me a newfound perspective on my past. Growing up in and being part of a family business exposed me to so many unique situations and challenges as a young person. Although I may not have played part in conversations, decisions, or solutions of the business as a young person, I bore witness and was affected by them all the same. I was clueless to how much I had learned from simply observing until I joined the FEC. The faculty, MBA students, and my fellow undergrad peers gave me the insight and tools necessary to extrapolate what I had learned from those experiences and think critically about how to take those lessons on with me. Looking back, my involvement with the FEC was one of the most fruitful and fulfilling things I did at UNC.
As an alumni, how have you stayed involved, or what do you hope to be involved in in the future?
Being back in the Triangle, I am excited to get back involved with the FEC, specifically with the undergrads who stand where I stood a few short years ago. Nothing is more fulfilling than being able to "give back" to those behind me in the same likeness that was done for me by my mentors. I hope to be able to attend events as an alumni (including an upcoming Women in Family Business Reunion), meet with students who are contemplating family business or general career decisions, and reconnect with those friends I made through my own involvement with the program.  Additionally, I hope to help my own family stay involved with the Family Enterprise Center and all of the resources it has to offer!
Is there anything else you'd like to add?
As a little anecdote, I recently ran into Cooper Biersach at a local fish market in Atlantic Beach. I had not seen her since graduation from KFBS in 2019, and to see her absolutely made my week! We caught up about our families, about UNC basketball, and about our lives right there by the fresh shrimp. It was one of those surprise encounters that made me pause and think for a second as I got back into my car. How lucky am I to have had such incredible mentors at KFBS that my entire week is made when I see them years later? How lucky am I now to be part of an alumni network that undoubtedly feels the same way? I am beyond grateful for the experiences and the relationships that the FEC has brought to my life and my career.
If you are interested in getting more involved with any of the programs Kathryn mentioned, or the Family Enterprise Center in general, please let us know.