STUDENTS
UNC Kenan-Flagler is committed to preparing next generation family business students to lead their family companies – as employees and/or as owners. In choosing UNC Kenan-Flagler, you will receive a world-class business degree coupled with insight into critical challenges and opportunities for family-owned firms.
This page will help you navigate our other pages, so that you can appreciate the robust family business resources that differentiate the UNC Kenan-Flagler business degree from all other top business programs around the globe.
Be sure to click on the following links:
Please feel free to reach out to Cooper Biersach directly via email or phone (919-619-4247), if you would like to talk more about resources at the Family Enterprise Center.
Frequently Asked Questions
What is the history of the Family Enterprise Center?
The Family Enterprise Center was founded in 2008, building upon Steve Miller's successful family business course that was first offered at UNC Kenan-Flagler in 2006. To date, nearly 500 students from all over the world have taken advantage of the popular Family Enterprise course offerings.
Why should students who come from family businesses choose Kenan-Flagler and the Family Enterprise Center to prepare them for leadership in their family firms?
Our family business students come to UNC Kenan-Flagler to learn necessary business and leadership skills, but they also need to understand the unique family and ownership issues at play in a family enterprise. A prepared and educated family business leader can use these additional dimensions to their advantage – leading their companies to become more competitive and more profitable, but they have to understand the various dimensions first.
People involved in a family business often share a passion, a commitment to a common purpose, and a legacy that creates strong ties with customers, vendors, family members, and employees. But, the workplace dynamics can be much more complicated in a family business. Family business owners who work in the family business have a different perspective on the family business than owners who do not work in the business. And non-family executives have yet another perspective. Understanding these different perspectives and articulating a common vision that inspires all stakeholders is critical in leading sustainable family enterprises.
At the Family Enterprise Center, we help students begin to understand the opportunities and challenges inherent in this complex system, where the boundaries between family and business often overlap. Hopefully, we also teach them to listen, communicate well, respect the past, and ask lots of questions, as they seek to take a leadership role in their family's enterprise – as an employee and/or as an owner.
Students tell us again and again that the coursework, Family Business Club, Next Generation Leader Roundtables, and speaker opportunities, combine to create a powerful experience that allows them to safely explore the issues and exciting prospects within their own family companies.
What do others say about the Center?
What experience do Steve Miller and Cooper Biersach bring to the Family Enterprise Center?
When Miller and Biersach teach or advise students at the Family Enterprise Center, they speak from experience as non-family executives in family-owned enterprises.
After the two heirs to the Biltmore Estate in Miller's hometown of Asheville, N.C., split off the profitable dairy from the house and gardens, Miller passed up law school to join one heir in marketing and developing Biltmore House into a profitable family enterprise with multiple businesses.
After Biersach earned her MBA and law degree at UNC, she chose to join a family-owned brand communications company, Jack Morton Worldwide, that adopted a strategy of fast growth to attract a buyer, in lieu of a transition to the third generation.
Along with the technical knowledge of growing and running a business, Biersach and Miller have an insider's understanding of the psychological and relationship challenges unique to family businesses and an outsider's perspective of how to work through them.
What is the lasting impact of the Center on students?
Visit our video library to learn about the lasting impact of the Center.
---
Please contact 
Cooper Biersach
, Director and Co-Founder of the Center, with additional questions.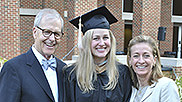 LAURA QUINN, MBA '14 TRINITY PROPERTIES, 2ND GENERATION, DURHAM, NC
"At the Family Enterprise Center, I learned what questions to ask, and how to listen. I learned about estate planning and taxation strategy. I went through in depth case studies of other family businesses, problem shooting and coming up with fact-based suggestions. I dove deeper into the complexities of family business – how these companies are more than businesses and how understanding emotional ties and relationships are important in analysis. And I learned all of these skills surrounded by other students facing similar struggles and questions. For the first time, I not only reflected on my role in my family and the business, but I did so with students who pushed me to think deeper and reflect more thoughtfully."