Creating Your Family Business Succession Roadmap – Online Course
Friday October 21, 2022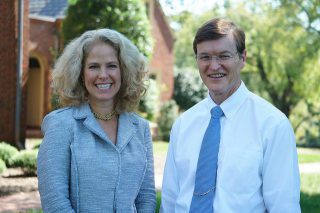 Professors Cooper Biersach and Steve Miller
Course Description:
Get out of the day-to-day and plan for the future.  This course is a unique opportunity to create a thoughtful roadmap for succession in your family business.  Come explore family business continuity challenges and common practices for successfully leading family-owned enterprises. Emphasis is placed on the importance of open, transparent communication in the family; the creation of a shared vision for the business; and the alignment of family and business goals.
Family-controlled businesses are characterized by challenges that threaten their continuity and by distinct resources that can create unique competitive advantages.  The challenges are primarily the result of issues presented by the interaction of family, management, and ownership systems – particularly when the family wishes to perpetuate its influence and/or control from generation to generation.  While 37% of the Fortune 500 firms are family controlled, the vast majority of family-controlled businesses are privately-owned and often experience difficulty moving from one-person general management to professionalized management that allows for success across multiple generations of ownership.
The course draws upon Steve Miller's research: "Developing Next Generation Talent in Family Businesses."  The research was focused on factors that influence next-generation leader development.  This research is incorporated into course videos and discussions, leading to practical ways participants can apply the findings to support successful transition from one generation to the next.
Recommended for:
Family business leaders, non-family executives, business-owning families, and future leaders; and is particularly useful if multiple members of a family firm participate.
Course Resources:
Videos with interviews of Cooper Biersach and Steve Miller and four successful family business leaders
Assigned readings
Live Zoom class discussions
Opportunity to engage individually with faculty members
Opportunity to join a small peer group to discuss and apply course topics
Course Dates:
Course will be held from 12:00 – 1:30 pm on each of the following dates
Friday, October 21, 2022
Friday, November 4, 2022
Friday, November 18, 2022
Friday, December 9, 2022
Friday, December 16, 2022
Friday, January 6, 2023
Preparation for each live session:
Each class will have videos and/or readings that will serve as the basis of discussion for the live sessions. Taking time to watch/read before class and to consider the reflection questions will ensure participants get the most out of class.
Time spent to prepare for each of the live sessions is approximately an hour.  Later sessions will require less time spent watching videos/reading, but instead preparation time could be spent applying material learned in class to your own family business.
Professors:
Stephen P. Miller, Ph.D. & Cooper Biersach, JD/MBA, Co-Founders of the Family Enterprise Center
Course Fees:
$2,500 includes the first 4 participants in a family
$500 each additional participant after the first four
$1,000 per individual participant
---
For more information, please contact Paige Beesley.
---
For more information: